Revell Street Concept Plans
15 November 2021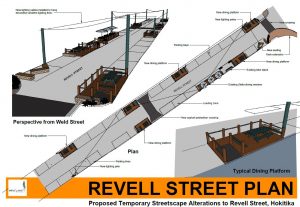 Concept Plans are now finalised for the Revell Street one way trial. These will be on display boards on Revell Street in the near future.
There are several workstreams being undertaken along Revell Street, which are running concurrently:
Road safety improvements by way of kerb extension outside of Take Note which has incorporated stamped concrete paving. Road improvements will include the installation of x2 raised crossing points which will double as speed pacifiers. These improvements have been approved by Council and planned for the Hokitika Town Centre plan but were bought forward to coincide with other works at Revell Street.
Lighting, including the installation of poles and the addition of ambient lighting is part of a project to improve decorative lighting at several locations throughout Hokitika Town Centre. Like the road safety improvements, this work has been bought forward to coincide with other works at Revell Street.
The other component is the one-way trial itself, which includes the introduction of 6 removable decks, planters and street furniture with temporary changes to the parking layout.
Recently the unused Spark phone box has been removed and the kerb outside Take Note has been extended and repaved with the new coloured stamped concrete as approved by Council. This will be the chosen paving for Hokitika Town Centre as footpath replacements are undertaken. The use of concrete requires less ground preparation, allows for shaping and can quickly and easily be patched where necessary. It is a cost-efficient and durable medium in the West Coast elements.
Photo Credit: Westland District Council
---
---