Emergency Generator installed at Fox Glacier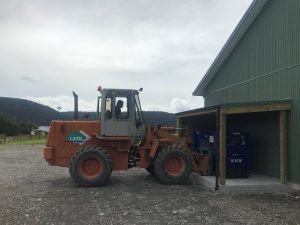 18 May 2021
There's been great news for the Fox Glacier community this month with the delivery and installation of an emergency generator. The Fox Glacier Community Response Group made a successful application to the Community Capability and Resilience Fund for the generator and sundry Civil Defence supplies.
The new generator will provide further resilience to the Fox Glacier Community Centre which has been identified as a potential Community Response Centre following a disaster and the town will soon take delivery of a specially designed emergency supply container, further bolstering resources.
Marius Bron, Community Coordinator for the Fox Glacier Civil Defence team says, "The installation of this generator is one of the final pieces of the infrastructure puzzle needed to support the operation of the Community Centre and will be of huge benefit in a response. A huge thanks must go to everyone involved including Michael & John Sullivan, Fox Glacier Emergency Services Charitable Trust, Cowpower generators, Holmes for Homes and Wire Fox".
If your community would like information about support for making an application for funding that may become available for civil defence purposes, please contact Lauren Emanuel, Westland Emergency Management Officer: lauren.emanuel@wcrc.govt.nz.
Photo Credit: West Coast Emergency Management
---
---