Supporting University Students work placements
Over the past couple of years, Westland District Council has been proud to assist University students to complete practical aspects of their courses. Winnie Dowell-de Quadros, who is about to enter her fourth year of Civil Engineering at University of Canterbury, worked at Westroads in the summer 2018/19 break and for our District Assets team over this summer. The Planning Department had the pleasure of working with Savannah Redmond, who is entering her fourth year studying for a Bachelor of Resource and Environmental Planning at Massey University in Palmerston North. Here is a little bit about what they have done and learnt while working for the Council.
Winnie Dowell-de Quadros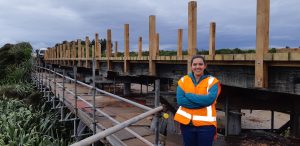 I am required to complete 800 hours of work experience over the course of my degree and have been fortunate enough to do so in my hometown of Hokitika. My work at both Westroads and Council has enabled me to gain a broad and in-depth understanding of engineering in all aspects of the processes. During my work at Westland District Council I have designed numerous bridges for the West Coast Wilderness cycle trail and visited many different sites, which has further increased my interest in the profession. Many students believe that working for large companies guarantees better work experience but I have found such a diverse amount of work in the Westland District that I would not have been able to experience otherwise.
Thank you to the District Assets team for this amazing opportunity.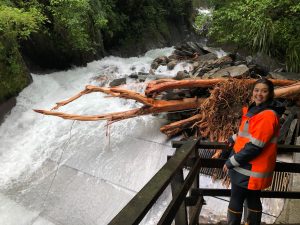 Savannah Redmond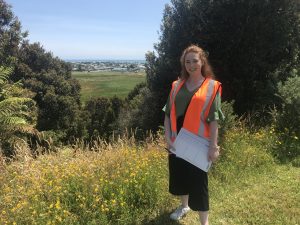 I have been lucky enough to intern in the Planning Department at Westland District Council over my summer break.
My main task has been to sort through files to find out if the Resource Consent has been made effective or not. I have also been getting experience with checking Building Consents, processing LIM applications and responding to public enquiries. Additionally, I have been compiling a list of sites that need compliance checks and assisting in conducting some of those checks.
This year I will complete a year-long research project. I have a strong interest in focusing my topic on the West Coast. After attending a road-testing meeting for the National Policy Statement for Biodiversity, I have narrowed my topic down to focusing on how the West Coast is 'different' with either biodiversity or natural hazards and events. The road-testing meeting was really beneficial for me to attend as it gave me insight on how Local Government feels around this topic. It was also a good chance to listen to DOC's perspective.
I would like to give a massive thank you to Fiona Scadden, Planning and Customer Services Manager, for this opportunity and to my colleagues for helping with any planning questions I have had. It has been a summer well spent in a beautiful town.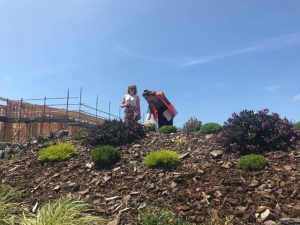 ---
---