Put lids in the green rubbish bin!
---
Recycling Lids and Containers
13 November 2020
After recent advice on how to sort plastic lids in recycling Council has seen an improvement in residents' recycling bins.
However, Council is now aware that the sorting facility is unable to accept any kind of plastic lid or loose tin lid from recycling bins. You should also not crush any bottles, tins and containers flat before putting them in your bin. This is because the optical sorters identify small, flat objects as paper, which puts them into the wrong recycling stream and contaminates all of the recycling.
If the lid is still attached to a tin, tuck it inside and it is fine to put the tin into your recycling bin.
What does this mean for residents?
Only put plastic numbers 1, 2 and 5 in the yellow-lid recycling bin.
Put all lids and any containers smaller than a yoghurt pot or larger than 3 litres in the green rubbish bin.
Keep tin lids attached and pushed inside for recycling, or remove the lid and put it into the green bin.
Do not crush tins or plastics to make sure they go into the right recycling stream.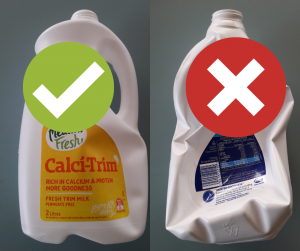 Photos: © Westland District Council
---
---