Dealing with waste over the Christmas period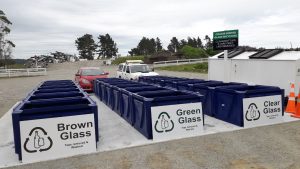 14 December 2021
Westland District Council wants to remind residents about the knotty problem of unrecyclable Christmas wrapping this festive season.
The waste team says, "Where you can, try to save the wrapping and ribbons to reuse – but if you've got so excited to unwrap and the wrapping is torn or otherwise unusable, make sure it goes into the right bin."
While paper wrapping can be put in the yellow recycling bin – metallic, plastic or foil wrap, gift bags and ribbons aren't recyclable and need to go into the rubbish.
You can also now take your glass jars and bottles to the Hokitika Transfer Station to recycle for free. All glass needs to be clean and intact.
Here are some further handy tips to steer you through your post-festive clean-up and the coming year and help reduce recycling bin contamination.
Photo of Glass bins by Envirowaste
---
---